Webinar: Five Key Patterns from ScrumPLOP.org
Dates: Dec 20, 2019
Location: Webinar: Zoom.us
Course Location:
Online
11:30 am - 12:00 pm EST

Price is $10.
Register by clicking the button below.
Expired. Please choose another course
.
Webinar: Five Key Patterns from ScrumPLOP.org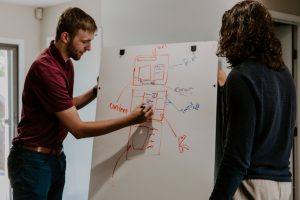 In this webinar we will discuss 5 key patterns from ScrumPLOP.org.  This is the same as The Scrum Book by Jeff Sutherland, James C oplein, et al.
These patterns will almost surely make your practice of Scrum better.
We will also introduce the "patterns" idea, originated by Christopher Alexander.
***
We will share our ideas. And we will ask you to share which patterns in The Scrum Book you find most useful.
Call: 30 minutes on Zoom.  (Zoom details will be sent to you.)
Price: $10
Please register on this page. (See the button above right.)
You may get a refund (by email request), but not after 48 hours before the webinar.
Contact us if you have any questions.