Webinar: Building A Great Team
Dates: Nov 22, 2019
Location: Webinar: Zoom.us
Course Location:
Online
11:30 am - 12:00 pm EST

Price is $10.
Register by clicking the button below.
Expired. Please choose another course
.
Webinar: Building A Great Team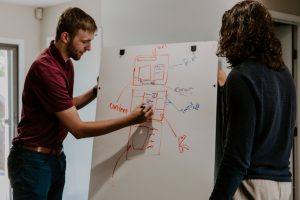 The purpose of this session is to learn some tricks to start building a great Scrum team. (They probably apply to any kind of real team.)
What if you are the manager of the All Blacks? Or the New England Patriots? Or your Scrum Team? Or the Washington Nationals? Or the Cincinnati Bengals?
Building a great team is hard, and there is no sure-fire answer.
Yogi Berra had one answer. "What makes a great manager?" "Great players."
What are some of the ideas we can use for our innovation teams?
We will share ideas and please share your ideas.
Call: 30 minutes on Zoom.  (Zoom details will be sent to you.)
Price: $10
Please register on this page. (See the button above right.)
You may get a refund if requested, but not after 24 hours before the webinar.
Contact us if you have any questions.