Wooden's Pyramid of Success
March 20, 2020
Mike Cohn has a wonderful weekly newsletter with advice.  Strong urge you subscribe.  See: MountainGoatSoftware.com (under the "More" option).
Mike was talking about John Wooden and his UCLA basketball teams.  (And I miss March Madness this year!!)
Mike also mentioned Wooden's fairly famous (to us who know his) Pyramid of Success.
Here:
http://www.coachwooden.com/pyramid-of-success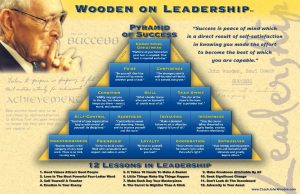 If you go to the website, you can learn more.  Which one do you like best?





« « Announcement: Scrum Alliance allows Online Courses || Managers and Team Members: Transparency Needed NOW » »